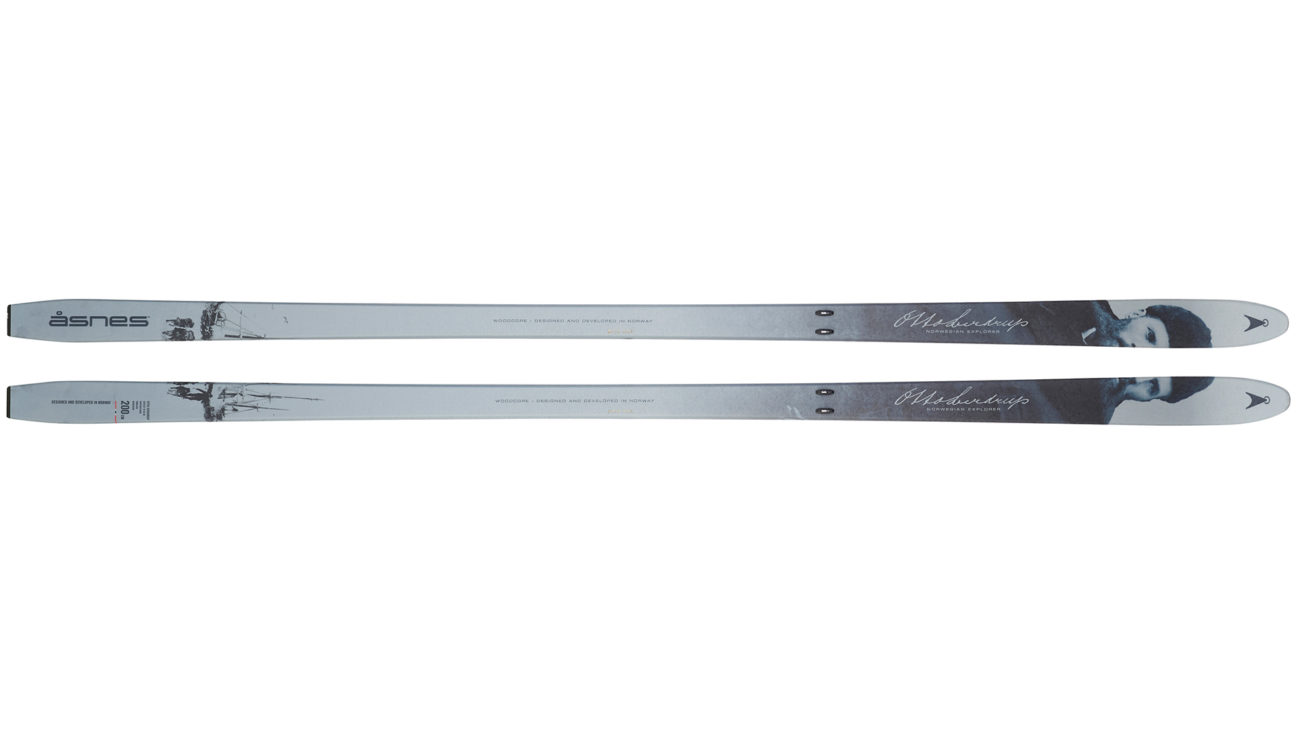 Otto Sverdup BC
All-round ski for use in the backcountry and varied terrain
Crafted with state-of-the-art technology, the Otto Sverdrup BC is one of the most versatile choices for the backcountry in our range – a ski with generous sidecut, tuned with more prominent camber and wax pocket than most of our other all-around BC skis.
The modern profile, with taper and a rockered tip, lifts it easily out of the snow. Compared to more traditionally-designed skis, it's both easy to initiate in the turn and resistant to hooking. This is a playful ski, forgiving when conditions are demanding, and a pleasure even in difficult terrain.
Otto Sverdrup BC's camber and prominent wax pocket make it an efficient ski suitable for slightly longer trips, especially in varying and hilly terrain – where its sidecut and forgiving tips let you make the most of those playful turns you might find on the way. All in all, a very good compromise for an all-around nordic BC ski. A modern twist on a good classic mountain ski, which will suit most mountain lovers!
If you want to get the most out of Åsnes' short-skin system, we recommend using the right skin, either X-skin 45mm Mohair for cold conditions / moderate terrain, or X-skin 45mm Nylon for wet conditions / steep terrain.
Otto Sverdup (1854-1930):
Otto Sverdrup (1854 – 1930) joined Nansen on skis over Greenland and was captain of the ship "Fram" during the first Fram expedition. He even led the second Fram expedition in the years 1898-1902. Otto Neumann Knoph Sverdrup is considered "one of the big three" in Norwegian polar history, next to Nansen and Amundsen. A name that has not received enough attention in the shadows of the other two.
The expeditions led by Otto Sverdrup collected a huge amount of research material. This resulted in 39 dissertations from 34 researchers who participated in the processing of the material. Sverdrup's expeditions also laid out the groundwork for maps used by Canadian authorities right up to the 1960s. Among the areas which were mapped were three islands that were named after the expedition's sponsors. The island was later commonly noticed as Sverdrupøyene (the Sverdrup Islands) and is today a part of the archipelago Queen Elizabeth Islands in the Nunavut Territory.
OttoSverdrup received a long line of awards throughout his life, i.a. gold medals from The Norwegian Geographical Society (1889), Royal Geographical Society (1903), and a number of other geographical societies, and he was an honorary member of several. He was appointed Commander of the 1st Class of the Order of St. Olav after the 1st Fram Expedition in 1896 and received the Grand Cross after the 2nd Expedition.
Ski Selector
SELECTING LENGTH
Choosing the right length
Ski length is determined according to body weight and height. The table below is only a guide, however – experience, skill, terrain and individual needs can all influence your choice of length.
Generally speaking, moving through rugged terrain calls for shorter skis than the open mountain plateau. And for beginners, short skis are easier to control. If you're mainly skiing along tracks, length isn't the most crucial factor. For good float on deep snow, a slighter wider ski is useful. Lighter skiers might consider a shorter ski; heavier skiers a longer ski. Skiers with loads such as backpacks and sledges might consider a longer ski.
| | | |
| --- | --- | --- |
| Unisex | | |
| Body Length | Weight (kg) | Ski Length |
| 155-165 | 55-65 | 175 |
| 160-175 | 60-70 | 180 |
| 170-175 | 65-75 | 185 |
| 175-180 | 70-80 | 190 |
| 180-185 | 75-85 | 195 |
| 185-190 | 80-90 | 200 |
| 190+ | 90+ | 205 |
Specifications
Steel edge
Skin Insert
Sintered and waxable
Length

175,180,185,190,195,200,205

Width

78-55-69

Weight

1070g per ski (200cm)
Material

Poplar woodcore

Binding

BC/75mm/Xplore

Production Country

czech republic