Mikael Strandberg
Mikael Strandberg started traveling at the age of 16 and made it into a profession at the age of 24 (born in 1962). He grew up in Sweden but has devoted most of his life to travel, documentaries, and exploration. He strives to become a better person for each year, according to himself. Today, he works as a lecturer, motivator, photographer, writer/ journalist, guide, blogger and independent producer of documentaries.
Mikael is awarded awards such as The Determination in the Face of Adversity Medal (Explorers Club London, 2005), Silver Medal in 2006 and Mikael the Mannerheim Medal in 2006 (Travelers Club Finland). Besides this, he has contributed to numerous articles, books, and documentaries – both as a photographer and documentary, but also as a self-employed producer.
Mikael needs the best of equipment to travel at the places he makes and has therefore chosen Åsnes skis, poles and skins.
Webpage: Mikaelstrandberg.com
Facebook: Facebook.com/Explorerglobal
Instagram: @Explorerglobal
That's not much Mikael Strandberg has not done. He has been in all the world's crutches and corners as a result of his adventures and his need to explore and document. Wherever he goes, it seems that he is well received and liked by almost everyone. Our opinion of Mikal can confirm that he is an incredibly sociable and inspiring guy. He is terrestrial, and despite an impressive CV full of expeditions, books and documentaries, it's the feedback he gets from other people, the personal connections and acquaintances he appreciates most of all. He is by no means a man seeking recognition for what he does, and says that the most important thing is to facilitate for his own children and the next generation.
Mikael acknowledges that he has a need for exploring and do not believe this hunger will stop anytime soon. He knows, therefore, that he will never get "a normal job", but he's at peace with it. He has never wanted to get rich in material things and is sometimes simple compared to many others, but we in Åsnes can guarantee that he is filthy rich of experiences, wisdom, and good stories!
Documentaries in English: (Subtitled)
Patagonia – 3,000 kilometers by horse (1997)
The Maasai –  1,000 kilometers by foot (2001)
-58 degrees – exploring Siberia on skies and canoe (2006)
Expedition Yemen 52 degrees in the shade (2013)
Frozen Frontier (Director) 2015
Man WIth A Pram 2016
KARLAG (in postproduction)
Man With A Family (in postproduction)
Expeditions:
1986-1987 Bicycle from Chile to Alaska passing through The Darien Gap.
1989-1992 Bicycle from Norway to South Africa passing through the Sahara Desert.
1994 –1996 Bicycle from New Zealand to Cairo traversing Asia.
1997- 1998 Patagonia by horse through Chile and Argentina.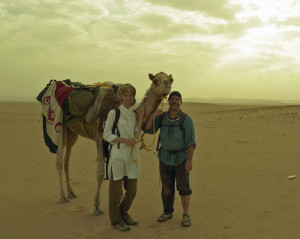 Explorers Club in London awarded Mikael The Determination in the Face of Adversity Medal 2005.
The  Travellers Club of Sweden awarded Mikael the Silver Medal in 2006.
Travellers Club in Finland awarded Mikael the Mannerheim Medal 2006.
Mikael has been featured in these books in English:
TIME Magazine Special Edition 2015. As this book shows, the age of exploration lives on. That spirit is palpable in heroes like Scott Kelly and the others in the book.
Faces Of Exploration.  The book features 50 of the most important and famous explorers today, like for example Sir Edmund Hillary, Jane Goddall, Reinhart Messner, Borge Ousland, Wade Davies, George Schaller and many more.
The Modern Explorers. 39 of the finest living explorers of today.
Adventurous Dreams, Adventurous Lives. 120 outstanding individuals, representing a Who's Who of international exploration, relating those indelible moments in their youth when the dreams that launched their remarkable lives were born.
They Lived To Tell the Tale – True Stories of Modern Adventure from the Legendary Explorers Club. Mikael features the Siberian journey.