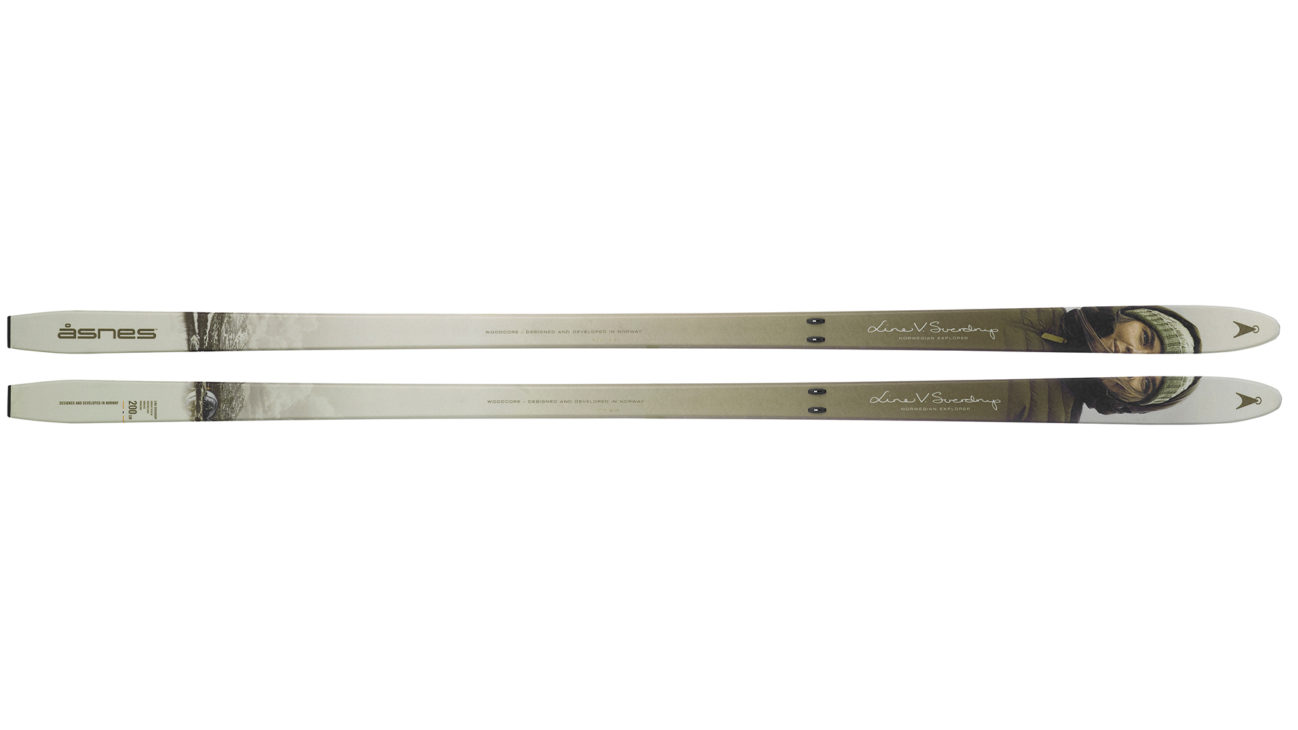 Line Sverdup BC
All-round ski for use in the backcountry and varied terrain
Crafted with state-of-the-art technology, the Line Sverdrup BC is one of the most versatile choices for the backcountry in our range – a ski with generous sidecut, tuned with more prominent camber and wax pocket than most of our other all-around BC skis.
The modern profile, with taper and a rockered tip, lifts it easily out of the snow. Compared to more traditionally-designed skis, it's both easy to initiate in the turn and resistant to hooking. This is a playful ski, forgiving when conditions are demanding, and a pleasure even in difficult terrain.
Line Sverdrup BC's camber and prominent wax pocket make it an efficient ski suitable for slightly longer trips, especially in varying and hilly terrain – where its sidecut and forgiving tips let you make the most of those playful turns you might find on the way. All in all, a very good compromise for an all-around nordic BC ski. A modern twist on a good classic mountain ski, which will suit most mountain lovers!
If you want to get the most out of Åsnes' short-skin system, we recommend the you bring more then one skin to change between for different conditions, either X-skin 45mm Mohair for cold conditions / moderate terrain, or X-skin 45mm Nylon for wet conditions / steep terrain.
Line Victoria Sverdup:
Line Victoria Sverdrup is a city girl who has chosen to live out her outdoor dream. As a relative of polar explorer Otto Sverdrup (1854 -1930) Line Victoria has a heart full of adventure, love for polar dogs, and Norwegian nature.
As her early relative, Otto Sverdrup, Line Victoria fell in love with nature early on when she was pulled as a child the sled behind the family's three Greenland dogs at the cabin in Valdres. And since then dogs, dog sledding, hunting, and the outdoors have been a big part of her life. For Line Victoria, the A4-life has never been particularly inviting. The pursuit of a career and focus you often find in the city and in the "finer" parts of Oslo did not appeal to her.
Line Victoria has many passions. Everything from hunting and fishing to dog sledding and hiking. In addition, she works as a freelance journalist. Line Victoria is also very concerned with nature conservation. Her goal with sharing the outdoor life on social media is to get as many people as possible to appreciate the outdoors more, live on/or less, and experience more. She believes that the best way to get people to understand how important nature and wildlife are to the earth is to show them.
We are proud to have Line Victoria in our small family here in Åsnes, and we look forward to following her further and are enthusiastic that a new generation of adventurers can spread the adventurous spirit and joy for the outdoors like Otto Sverdrup once stood for.
Ski Selector
SELECTING LENGTH
Choosing the right length
Ski length is determined according to body weight and height. The table below is only a guide, however – experience, skill, terrain and individual needs can all influence your choice of length.
Generally speaking, moving through rugged terrain calls for shorter skis than the open mountain plateau. And for beginners, short skis are easier to control. If you're mainly skiing along tracks, length isn't the most crucial factor. For good float on deep snow, a slighter wider ski is useful. Lighter skiers might consider a shorter ski; heavier skiers a longer ski. Skiers with loads such as backpacks and sledges might consider a longer ski.
| | | |
| --- | --- | --- |
| Unisex | | |
| Body Length | Weight (kg) | Ski Length |
| 150-160 | 50-60 | 170 |
| 155-165 | 55-65 | 175 |
| 160-175 | 60-70 | 180 |
| 170-175 | 65-75 | 185 |
| 175-180 | 70-95 | 190 |
Specifications
Steel edge
Skin Insert
sintred and waxable
Length

170,175,180,185,190

Width

78-55-69

Weight

960g (180cm)
Material

poplar woodcore

Binding

BC, 75mm or Xplore