How to store your ski gear for the summer
Have you ever wondered how you should treat your ski gear before you store it over the summer? Here are a few tips from Åsnes.
If you take these measures now, you can make sure to have a head start on next season.
Skis
After a long season, often, both the soles and the steel edges has gotten a lot of beating. It is therefore well worth your time to give your skis a bit of well-deserved TLC before you store them away. This will save you time and lots of frustration when you bring them back to life next fall.
Tune and fix up the steel edges with a file and a brow so that they are sharp. Remove all rust and make sure the edges are at the right angle, and do not look completely trashed.
Use a steel screed and any directional bronze brush on the sole to smooth out wounds.
Then you clean the skis – either with a wax remover or by applying a soft glide wax that you scrape off while still warm.
Then put on a layer of wax that you leave on the skis over the summer. It's really the same what kind of glide-wax you use.
Clean your skis from old wax, sticky stuff, and dirt. BC – and cross country skis should always be cleaned from old wax and yuck.
BC mountain skis do not need to be waxed in the wax pocket.
Of course, we encourage avoiding fluorine wax, so we recommend using Swix CH 10 or CH8. We often use CH7 (the purple on) as a fine all-round wax, which works well in most conditions.
The most important thing is just to apply a wax so that you protect the sole and prevent it from drying out completely. If you do not do this before you store your skis, they will need a lot more work to get ready for when the ski season comes.
If the skis look really bad, you should consider bringing them to full service at a sports shop or to a ski shop, get the edges grinded, sole grinded and ask to get them back with the wax still on.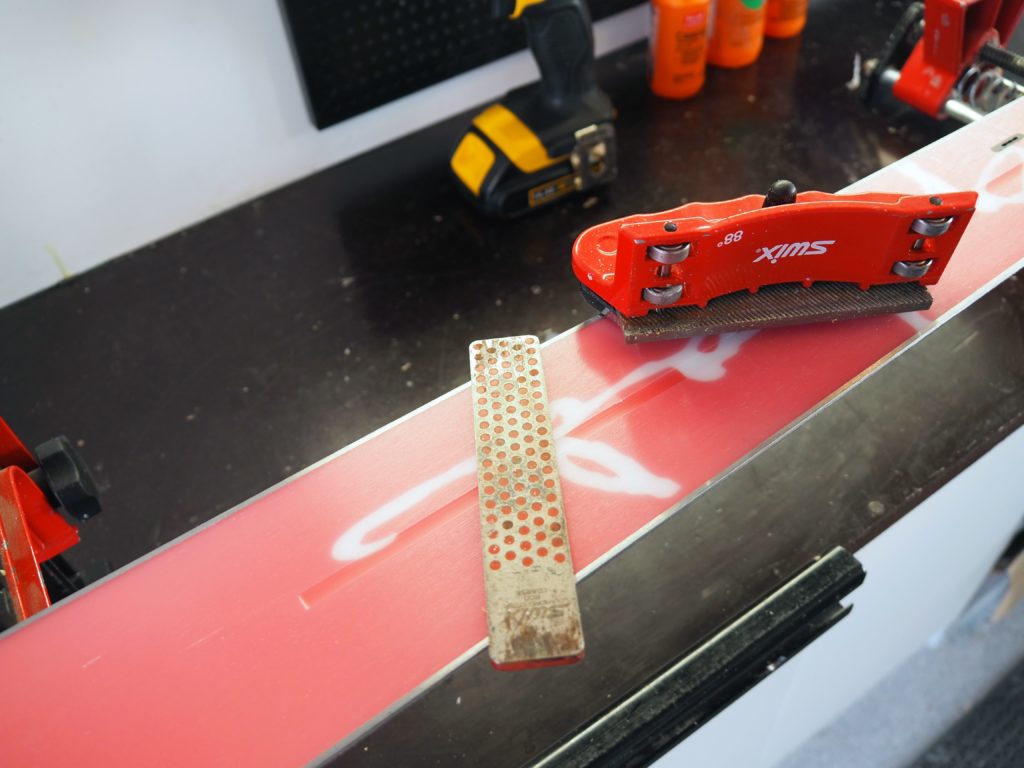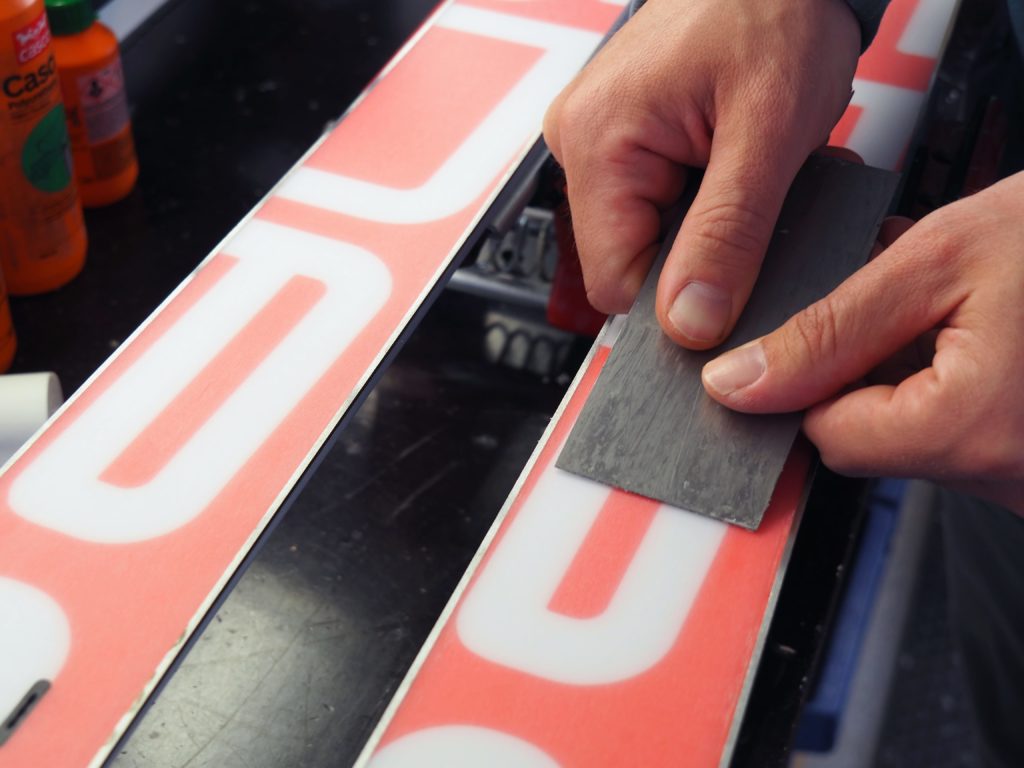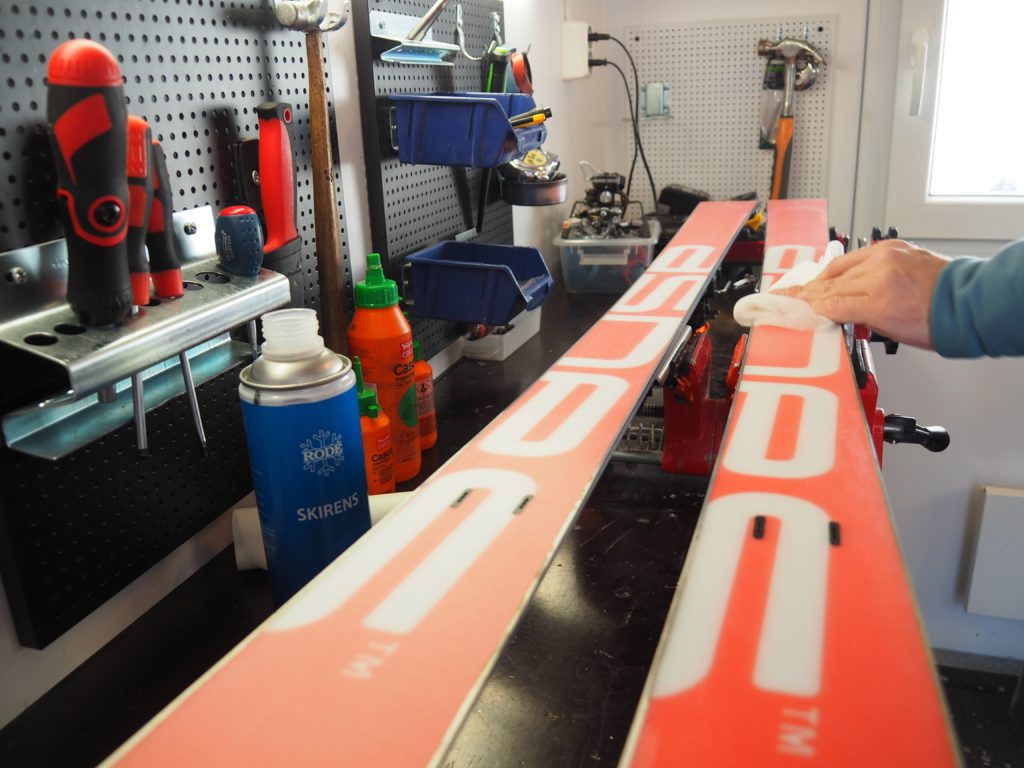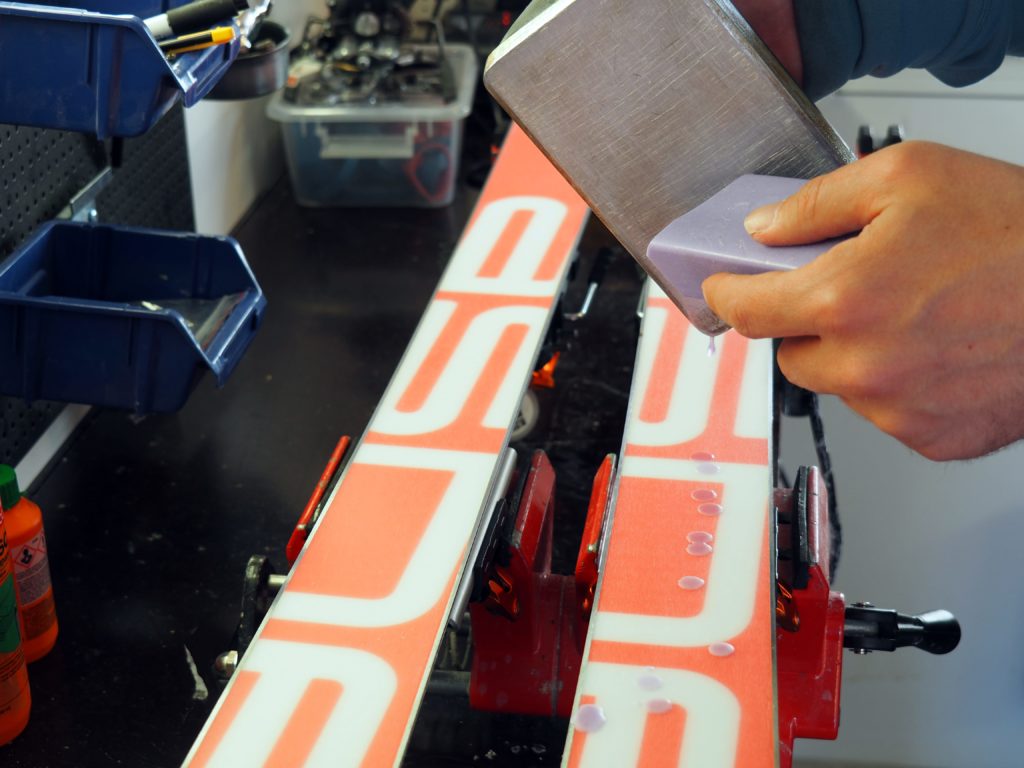 Bindings
All new generation bindings, except for the lightest ones, has a trigger mechanism that allows the boots to release from the binding in case of fall or during rotations. This release mechanism is spring-loaded and is adjusted according to weight, sole length, and length of the skier.
It may be worth turning down the spring load when the skis are not to be used for a while. This is smart, because, you sure that the springs are not always at the maximum tension, worn and weakened over time.
You should also put typical tech bindings in the "ski mode" – for the same reason, to prevent the springs in the toe part of your binding from being under constant tension. This is really something everyone should be better at when the skis are not in use.
Alpine bindings and other bindings with adjustment can also advantageously be cleaned, so that you remove sand and other dirt, before treating them with new grease where needed. One can easily see where bindings has been greased before.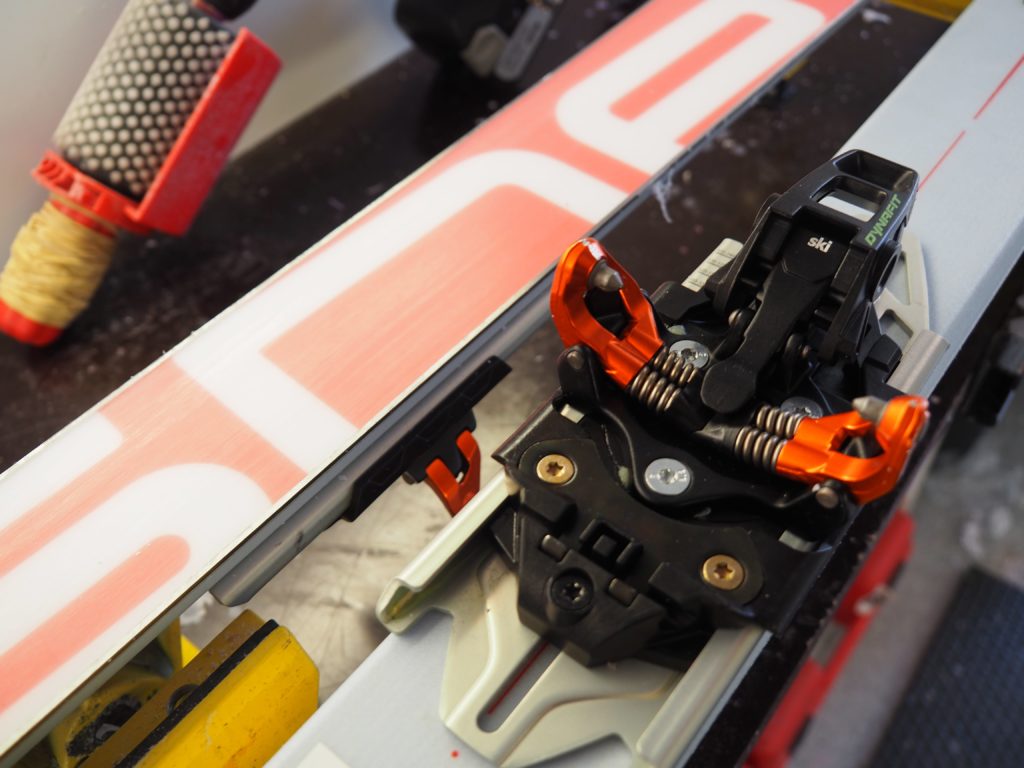 Skiboots
If you have plastic shoes (AT and Alpine boots), it is advisable to remove the liner and allow them to dry properly. It is also a good idea to make sure all the screws are tightened, tighten them, and if necessary, apply a few drops of "lock-tite" so that the screws do not come loose again. In addition, you may want to clean the plastic shell. Then put the inner boots back in the shell and tighten the buckles as you would when skiing. This is something you should always do with your boots. This is important for boots to keep their shape and get soft and deformed over time. BC and Telemark boots should be cleaned, dried and treated with a proofer or wax. This prevents the shoe from drying out and cracking. Moreover, it significantly extends the life of the boots.
Avalanche transceivers
Remove the batteries when storing your beacon! Use them in a headlamp or something else useful. Old batteries can explode, leak acid and destroy your bacon. Therefore, you should always take these out. You should put in new batteries in the unit when the winter comes either way, so that you are sure that you have enough battery life before heading out in the mountains. Always make sure to have at least 80% battery power left on the transceiver in season.
Climbing skins
Clean the skins, remove dirt and let the skins dry properly in room temperature. If necessary, you should remove old heather and pebbles from when you mistreated the traps on the last spring skiing trip. If the glue is in really bad shape, it is advisable to apply new and fresh glue before storing the skins for the summer.
If you are very clever, you would treat your skins with skinwax or a skin proofer before you store them. This way you have ensured clab-free and super-fast skins for the ever so heavy season start.
Many climbing skins come with a shim net. This is most often unnecessary to use during the season, but you may want to use this for storing the skins – so that you can safely avoid them sticking together too well. Then put the skin in your dedicated ski backpack or store them in a dark and not too hot storage room.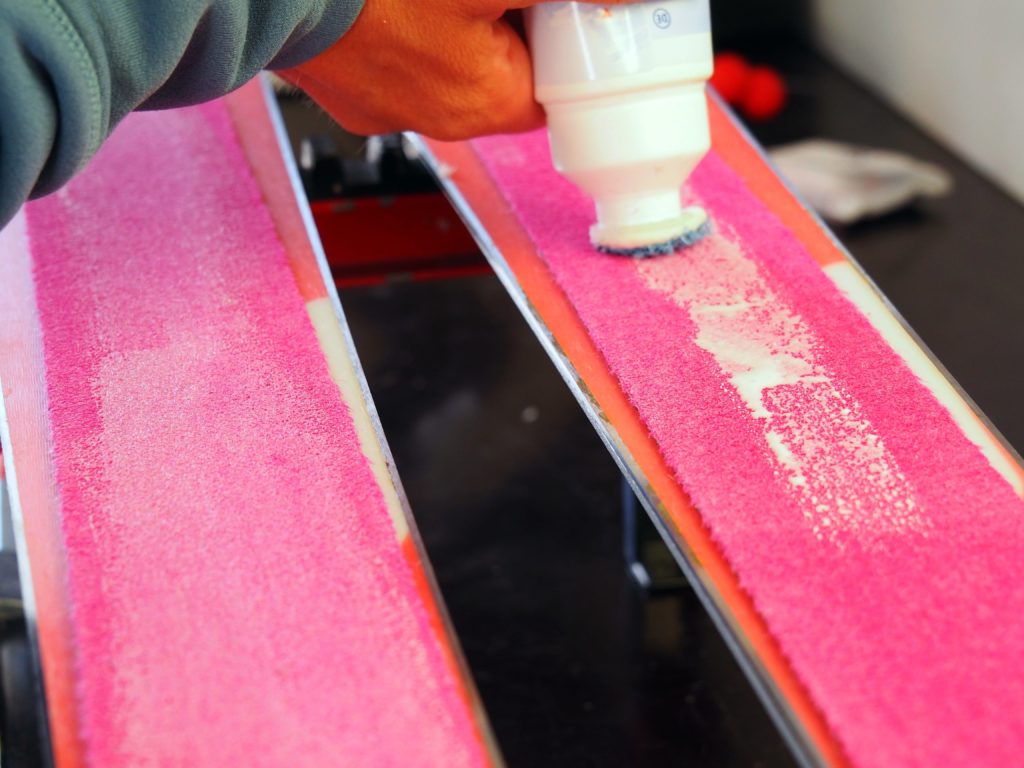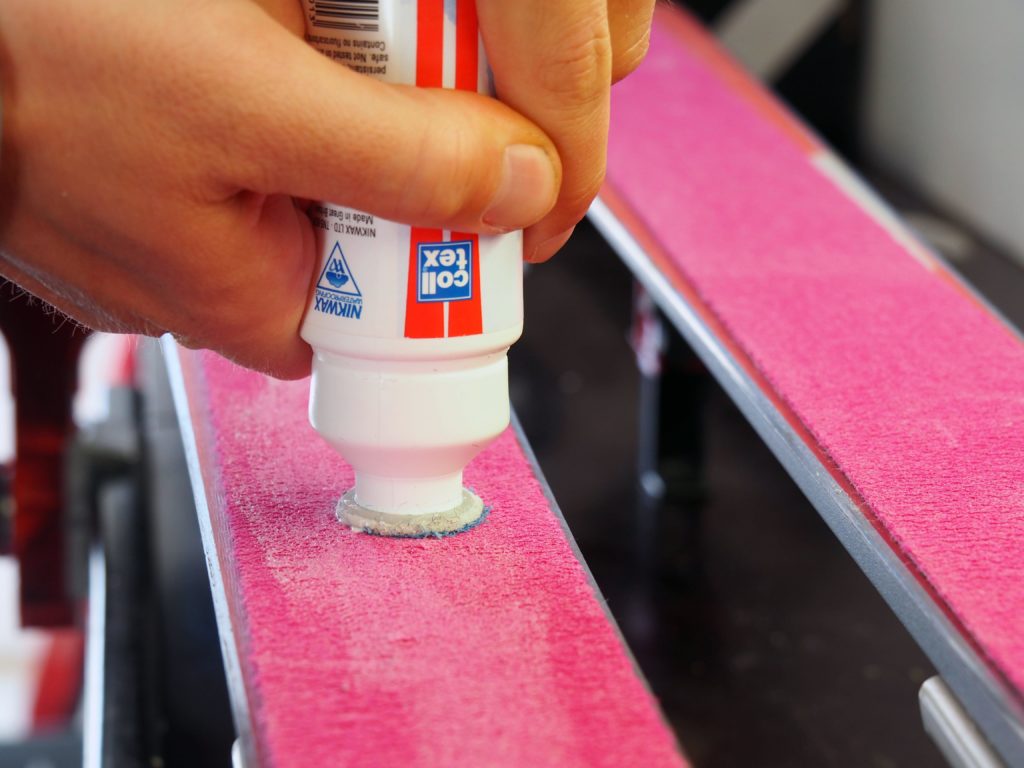 Backpack
First and foremost, it is wise to empty your backpack for garbage, leftover lunch packs and anything that doesn't have to be there. Repair any holes and wash off the worst of dirt.
If you have a dedicated ski touring backpack, it may be worthwhile to leave the shovel, avalanche probe, beacon, first aid kit and other equipment that you MUST have in your pack over the summer. This way you will know where your gear is when the snow suddenly comes back.
Clothing
Wash, patch and proof your clothes. Gore-tex and other waterproof membrane garments breathe better and withstand more moisture if they are clean. Ask your local specialist shop for advice if you are unsure how to wash, patch, fix and proof your clothes.
If you know that they will not be used during the summer, put them in your ski bag along with the other ski equipment. Then you have everything in one place.
Repairs
Repairs and other annoying adjustments are often postponed during the season. In the spring you often have time to get ahead of all the small repairs, adjustments or move your bindings. Don't just think about it, do it! Now! Before storing your equipment – you will save yourself a lot of annoyance next season.
If you wait you will definitely not remember it before the first ski trip next fall/winter.
We wish you a really good summer!
With best regards, the Åsnes team.